STRAIGHT CENTER PINS
STRAIGHT CENTER PINS WITH TIP PROCESS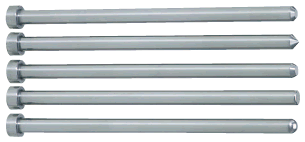 Center pin shaft dia-
meter tole-
rance
Appli-
cable ejector sleeve hole(V) tole-
rance
Material
Head Thick-
ness
(T)
Shaft
diameter
tolerance
Shaft diameter(D)
selection type
Shaft diameter(P)
0.01mm increments
4mm
(T4)
0
-0.005
CPH-5L□
CPHG-5L□
0
-0.005
+0.005
0
-0.01
-0.02
CPHE-5L□
CPHGE-5L□
-0.01
-0.02
+0.01
0
or H7
6·8mm
(JIS)
0
-0.005
CPHJ-5L□
CPHJG-5L□
0
-0.005
+0.005
0
-0.01
-0.02
CPHJE-5L□
CPHJGE-5L□
-0.01
-0.02
+0.01
0
or H7
4mm
(T4)
*Reference
tolerance
-0.01
-0.02
CPN-5L□
CPNG-5L□
(Shaft diameter 0.1mm increments)
-0.01
-0.02
+0.01
0
or H7
6·8mm
(JIS)
CPJ-5L□
CPJG-5L□
(Shaft diameter 0.1mm increments)
4mm
(T4)
*Reference
tolerance
-0.01
-0.02
RDCPN-5L□
-
-0.01
-0.02
+0.01
0
or H7
6·8mm
(JIS)
RDCPJ-5L□
-
*The tolerance values for shaft diameter are representative ones. The tolerance range varies depending on the shaft size and/or length. For details, refer to the Catalog page of each product.
SELECTION METHOD FOR STRAIGHT CENTER PINS WITH TIP PROCESSED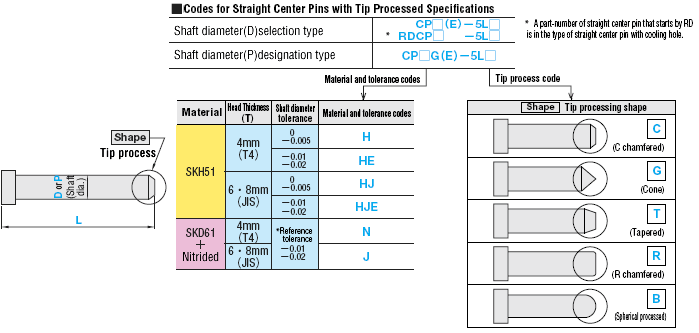 Material characteristics of center pins
Material
High Speed Steel
SKH51
Dies Steel
SKD61+Nitrided
Hardness   HRC
58~60
Surface base:900HV~
material:40~45
Machining
characteristics
Wear resistance
5
4
Ability to be mirror-finished
4
3
Toughness
3
4
Corrosion resistance
3
3
Physical
characteristics
Density [g/cm3]
8.2
7.75
Modulus of longitudinal elasticity [kgf/mm2]
22300
21000
Coefficient of thermal expansion [×10-6/°C]
10.1
10.8
Thermal conductivity [cal/cm·sec·°C]
0.051
0.061
Mechanical
characteristics
Tensile strength [kgf/mm2]
235
135
Charpy impact value [kgf·m/cm2]
2
4
Machining characteristics

Conversion formula
1kgf/mm
2
=9.81N/mm
2
1cal/cm·sec·°C=418.6W/M.K
1kgf·m/cm
2
=9.81J/cm
2

Use these data for reference only as they are dependent on specific heat treatment and usage conditions.